GOT7's EP Eyes On You was released on the 12th of March 2018. It was the group's first release of 2018 and helped cement their transition to a more mature sound. The song brought with it a collaboration with Hyolyn, a former member of the group SISTAR, and now a solo artist with her own label.
In this post I will be reviewing all 6 tracks.
---
One and Only You (ft. Hyolyn) is a funky R&B/Soul collaboration with former SISTAR member, Hyolyn. The collaboration works perfectly, with Hyolyn's high tone and gorgeous vocals giving the song an extra dimension and complimenting the group so well. The song is upbeat, impressive, and has a good rhythm. 5/5.
Look is a dance track, which also incorporates some of the group's more low-key singing and rapping from their R&B tracks in the verses. The chorus, however, is full out dance-like-nobody-is-watching synth heaven with some fun percussion twists. Fun, but not my favourite ever. That being said, tempo is played with masterfully and you won't be bored. 4/5.
The Reason is an upbeat, summery dance track. I especially like the soft rap verses. The chorus is quite fun, just not as interesting to listen to as the verses. Fun, but not special. 3.5/5.
Hesitate is what I like to call "chill pop": somewhere between pop/dance, ballad and soft hip-hop. It's soothing and relaxing, if not memorable. 3.5/5.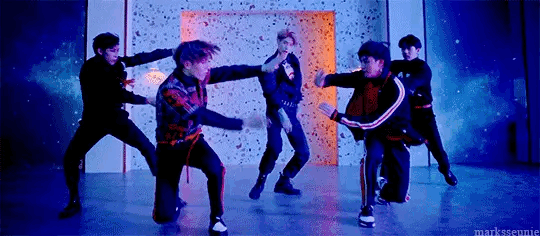 Us is a solid R&B based track, with some good raps and pretty vocals, a good beat and a good mix of different tempos, sounds and rhythms. It's danceable, almost hypnotising and one of my favourite songs on the album! 4.5/5.
Thank You is a pretty standard upbeat ballad dedicated to the group's fans. Nothing particularly special, but a decent song. 3/5.
---
Overall this album had a lot of good songs, with one or two great songs, which isn't bad for a 6-song-short EP. Like many of GOT7's recent albums, the track list is made up largely of dance and R&B, with the occasionally chill hip-hop or ballad peeking its way into the mix. I also just want to give a shoutout to the group's incredible music videos lately. Look, for example, at the scene below from Look (funny I know)! Gorgeous!!!!!!!
| | |
| --- | --- |
| CATEGORY | SCORE (5) |
| Title Track | 4 |
| Variety | 3 |
| Cohesiveness | 4 |
| My Music Taste | 4 |
| Overall | 4 |
What do you think of the album? Watch out for my countdown of my favourite GOT7 tracks tomorrow and stay tuned for lots more posts this December! Happy listening, Keira x.