Yellow Flower was released in March 2018 and was the first installment of Mamamoo's 4 Seasons project.
This album was Hwasa's album (hence her having a solo song, Be Calm, on it). Each of the members got an album that was centred more around them.
Not including the intro, this mini album has six songs, four of which have music videos.
---
Star Wind Flower Sun is a pretty basic, slow and slightly cheesy ballad, elevated somewhat by their beautiful voices, but otherwise not particularly… special. 3/5.
Starry Night has one of the most beautiful music videos ever. It's also a very pleasing song, and soothing to the ears, although the chorus section is a bit underwhelming. 4/5.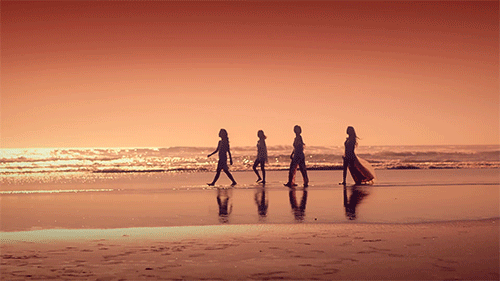 Be Calm is Hwasa's solo song and is also the most profound and moving song of the album… "I'm finding my way back to life again". Of course, Hwasa's voice is also gorgeous and the calmness of the song matches the title. The calm R&B style is something we've seen from Hwasa since, and it suits her well. 4.5/5.
Rude Boy is an incredibly well thought out song. It has a pretty chill vibe, as many of these songs do, but is actually a conversation between Solar and the rest of the members about a boy who is… well, not good for her. Genius! 4.5/5.
Spring Fever might be a very relatable song depending on your relationship status, as it talks about the feeling when everyone around you seems to be falling in love whilst you remain forever alone. The highlight is the amount of beautiful low notes we get from Moonbyul! 4/5.
Paint Me was originally released as a single at the beginning of January, as a kind of introduction to the 4 Seasons project. With this song, the album opens and closes on a ballad, but this is no cheesy cute ballad… this will hit you in the feels. 4.5/5.
---
Overall, this album seems to consist of lots of great songs, but nothing that made me go WOW THIS IS THE BEST SONG EVER. An incredibly solid album, with something distinctive about each song. I definitely recommend getting familiar with the lyrics though, as otherwise some of the b-side tracks can blend into each other a bit as they have a similar sound and are mostly distinctive in lyrics.
| | |
| --- | --- |
| CATEGORY | SCORE (5) |
| Title Track | 4 |
| Variety | 4 |
| Cohesiveness | 4 |
| My Music Taste | 4 |
| Overall | 4 |
---
What did you think of the album? Let me know! (Please.) Did you know about this album before? Did you discover some new music?
Keep an eye out for a slew of Mamamoo posts soon as I've been holding off until they finished off this project to post everything!
Happy listening, Keira x.