Hello everyone! I actually did this post about a year ago on my old blog, but I decided to do an updated version for my new blog. So, if you're interested in finding out more about A.C.E, have never heard of them before, or love them as much as I do, settle down, and let's go!
---
A.C.E is a 5 member boy group from the company Beat Interactive. Beat Interactive is a small company, and A.C.E is their first, and so far only, artist. Unlike lots of Korean music companies, Beat gets a lot of love from A.C.E's fans (Choice), who often call the CEO "Queen".
In addition to their music, A.C.E can be admired for their charitable spirit, holding charity concerts and donating regularly despite coming from a very small company and not having much money. Their CEO also encourages their education; the members go to Uni and regularly read books about feminism. They debuted on the 23rd of May 2017, after gaining fans through busking and covers of popular artists such as BTS, BLACKPINK, and John Legend.
---
Now, I thought I would give you a short introduction to each of the members!
JUN
Jun is the leader, lead vocalist, and dancer of A.C.E. His real name is Park Junhee and he was born in 1994.
He is known as the least funny member of A.C.E (which he admitted himself) and is often (good-naturedly) bullied by the other members, as you can see in this little gif of Donghun splashing water at him whilst he tries to talk. He has a really hard job taking care of the insanity that is A.C.E.
In addition to his work in A.C.E, Jun is also a good actor and has made guest appearances in TV shows such as Meloholic (2017) and Big Issue (2019), as well as acting in the 2016 musical Peste. Jun also competed in The Uni+ (2018) and was a participant on the H.O.T episode of I Can See Your Voice (2017).
---
DONGHUN
Donghun is one of A.C.E's main vocals, and is the oldest member of the group. His full name is Lee Donghun and he was born in 1993.
He is the spoiler-fairy of the group, and also very savage. That being said, he is known for having the saddest eyes and voice, and is also very affectionate.
Donghun recently participated in the Idol Rebooting programme MIXNINE (2018) and came in 8th place. He also participated on the GOT7 episode of I Can See Your Voice (2017).
---
WOW
Wow is a main dancer, main rapper, and vocalist. His real name (funnily enough, Wow is a stage name) is Kim Sehyoon and he was also born in 1993. He is sometimes considered the unofficial visual of the group.
Wow is one of the more reserved members of the group and is often quiet, but when he does speak up, he's a fountain of giggles and fun. Definitely a secret maknae at heart. Wow sometimes gets called "King Wow" by the other members and fans. He used to be quite shy, but he is becoming more confident.
Wow also participated in MIXNINE (2018) and came in 11th place. He has the most experience making music of all the members, and sometimes participates in lyric writing (e.g. for his rap verse in Take Me Higher (2018)).
---
KIM BYEONGKWAN
Byeongkwan (formerly known as Jason) is the other main dancer of the group, and he is a rapper and vocalist as well. He was born in 1996 and is hence the eldest of the maknae line.
Byeongkwan has an outrageous and over-the-top sense of humour which you can't help but love. He messes around a lot, but is also incredibly hard-working and dedicated, and when things need doing his serious side comes out.
Byeongkwan also participated in MIXNINE (2018), coming in 6th place, the highest place of any member from A.C.E. All of the members featured in 1 Million dance videos before debut, but Byeongkwan featured again their cover of Apeshit by The Carters back in October 2018. Along with Chan, Byeongkwan featured on the OST for the drama My Healing Love (2018).
---
CHAN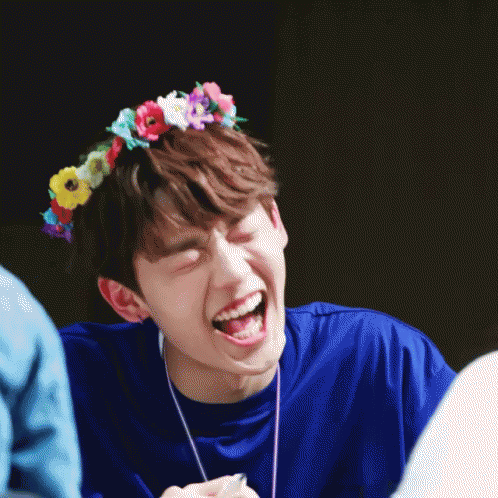 Chan (born: Kang Yuchan) is the maknae and second main vocalist of the group. He was born in 1997.
Chan is an eternal sunshine, with an endless energy that he attributes to eating a large amount of tangerines growing up (his parents are tangerine farmers). He is filled with a natural cuteness that is truly irresistible, but on stage he can be just as dangerous as any of the other members.
Chan participated on The Uni+ (2018) and came in 9th place, landing him a spot in temporary boy group UNB, with whom he promoted for most of the year. This meant he was not included in the group's 2018 comeback Take Me Higher. Recently, Chan has followed in Jun's acting footsteps with a cameo in the drama Marry Me Now? (2018)*.
*this clip really shows how good he is at acting… because he is NOTHING like that really.
---
A.C.E doesn't have a signature style, having played with a variety of genres (although they are one of the few groups, if not the only group, to experiment with hardstyle EDM), but they have a very distinct visual style for their MVs, which largely see clips of dance and singing woven through clips of them having fun and various shots of aesthetically pleasing objects.
Perhaps most fundamental to their identity as a group is their incredible, often very difficult choreographies, and the way they push the boundaries of convention and gender stereotypes with their fashion (think crop tops, short shorts, jewellery, nail art, without losing any of their masculinity).
---
Here's a quick rundown of their music, and what other things you should check out!

ERA 1 : HARDSTYLE
Both their debut single (CACTUS) and their following comeback (Callin') introduced elements of Hardstyle EDM to K-Pop. CACTUS (2017) is a sentimental song about weathering hardships like a cactus in harsh conditions, whilst Callin' (2017) is a more musically mature and complex song about being there for someone.
ERA 2: SUMMER FUN (MINUS CHAN)
The group didn't release much music with Chan away, but we did get a repackaged album with the fun summery song Take Me Higher (2018) as the title track, along with the group's first b-sides. The sentimental fan song 5TAR (Incompletion) was also released in this era.
ERA 3: ONGOING
Well, we don't know how long this current era will last, but Chan is back and they've changed up their music style again. With their 2019 release UNDER COVER, the group returned to the more hard-hitting and hype style of their 2017 releases, but this type following a more rap-rock style genre.
If you want to get to know A.C.E, hop onto the comments of any video or onto Twitter- Choice are super welcoming! I would also recommend checking out their official YouTube channel, A.C.E Subs who subs all their stuff, their V-Live and their Twitter!
I have a review for their 2018 repackage album (A.C.E Adventures in Wonderland) which contains all their 2017 and 2018 releases if you want to read that, and you can find my review of this most recent mini album here.
On a final note, check out their 2018 collab with French DJ Hcue: I Feel So Lucky (but steel yourself first, because you might die by the end).