GOT IT? is GOT7's debut album. The title track, Girls Girls Girls was released on the 13th of January 2014, and the accompanying mini album (EP) was released on the 20th of January.
The album introduces the group's initial style: a hip hop-kpop fusion with martial arts tricking at the centre. The group played a confident image, perhaps an exaggerated confidence, the kind that teenage boys have when they try to be cool and sort of succeed.
Looking back on the album, the exaggerated swagger is perhaps best left in 2014 along with the awful hairstyles that accompanied it, but the music itself has slightly more sticking power.
---
Click on the names of the songs to be redirected to a video of them on YouTube. This may be a music video, live performance, or lyric video, depending on what is available.
---
Hello is a song of contrasts. It begins with a distinctive, but slightly irritating beat, which comes back during the rap verses. This beat has a certain buzzing element and if you do not mind the sound it would be fine, but I personally find it headache inducing. These repetitive, beeping percussion sections characterise more than one song on this track, but this is perhaps the most painful rendition. These sections are split up by more stripped back, but still percussion-driven, vocal sections, and the honeyed tones of the vocalists provide a safe haven for your ears. Unfortunately, even these sections are not enough to counter the irritation caused by the rap sections, making this song impossible to listen to. 1/5 stars.
Girls Girls Girls is the title track, and as such it most perfectly captures the teenaged 'swagger' that characterises this album. Thus, it is also perhaps the song that has aged worst off of the album. The song itself, is quite repetitive, although the 'beepy percussion' (that's now what I'm calling it) instrumentation in this song is less irritating to the ears than the one in Hello. It is the boy's charisma and the martial arts tricking that make this song, as opposed to any particularly beautiful or interesting composition, vocal, or rap line, and therefore as an audio experience is rather lacklustre, although it fares better in the form of remixes at more recent concerts. 1.5/5 stars.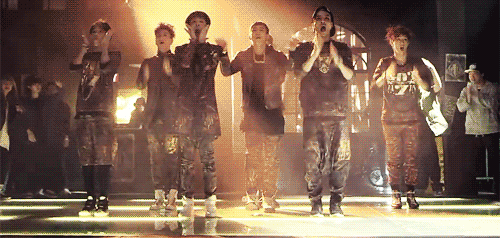 I Like You also has constant background sound, but in this case it is actually a repeated phrase in a very high pitched tone that acts almost as a percussion line. This is incredibly catchy, and will definitely not leave your head for a while. Sometimes it does distract from the vocal and rap lines over the top, but perhaps in a positive way: the slightly comical sound of this refrain adds a playful element to the otherwise emotional vocals of the singers in the group, which works quite well. The instrumentation also builds throughout the song, making the song feel less repetitive than the previous tracks on this album. 2.5/5 stars.
Follow Me also has a rather distinctive percussive beat, but in this song it is not as omnipresent as in I Like You, and not as annoying as in Hello. It is more similar to that of Girls, Girls, Girls, but is superior in that it is successfully developed throughout the song. The hook is especially catchy, and therefore does its job very well. The sort of patchwork nature of the song, however, is also part of what makes this song so quirky and fun. The hook is especially catchy and perfectly encapsulates the cheekiness of the song. 2.5/5 stars.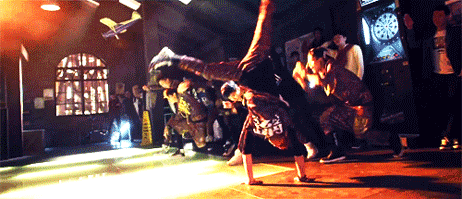 Like Oh is also percussion-driven, but is busier than other songs on the album. Ther percussion element is perhaps more traditional and palatable, with fewer strange buzzing sounds and no high-pitched vocal lines, but the song has less direction than I Like You and less character than other songs on the album. There are a few beautiful vocal sections and it is definitely the mellower sections of this song where the group shines the most, but unfortunately these are only the build up to a rather underwhelming chorus. 2/5 stars.
Playground is in some ways the safest song on the album. However, I would also hesitate to label this as just the 'compulsory ballad' that many K-Pop albums include. It still retains the character of the rest of the album with consistent, repetitive percussion elements, but is stripped back and mellowed down enough to finally show off the sweetness of the vocals. This song combines the softer parts of Like Oh with the emotional vocals of I Like You, to make a very youthful coming-of-age style love story. It is not particularly memorable as a song, especially compared to the persistent catchiness of some of the other tracks, but it is the most cohesive and beautiful song on the album, making it my favourite. 3/5 stars.
---
Overall, this album is, I must admit, one of my least favourite of GOT7's albums (as you will see if you stay tuned for the rest of my album reviews coming out this week), as many of the songs contain elements that actually irritate my ears. That being said, the album has some things going for it: if those sounds don't irritate your ears, then this album is definitely worth listening, because those unconventional sounds make it interesting.
The album is also particularly cohesive, with common themes such as the use of repeated percussion sections and refrains used in all of the songs, but with enough variety that the songs don't, for the most part, blend into each other. Like Oh is perhaps the exception to this, as it does feel a bit like a blend of other songs on the album and lacks a distinctive character.
This album is best at its most playful and its most emotional, but falls down when it attempts to be "cool", in part due to painful instrumentation choices, and in part due to the fact that 2014 "cool" was not very cool. 2/5 stars.
If you're interested, the only song off of this album that I have downloaded is Playground, although I occasionally find myself with Follow Me and I Like You stuck in my head, and then they too warrant a couple of listens.
Let me know what you think of these songs! Do you love a song I hate?
Happy listening,
Keira x.
P.S. Please remember that my album reviews are subjective. I am far from a music expert, and therefore my critiques are purely based on my own personal preferences in music, as opposed to some knowledge of what makes a good or bad song.